NorthBio Human Sera and Plasma come with a Certificate of Analysis reporting biochemical data and virus testing data.  NorthBio Human Serum and Plasma have been tested and found negative for mycoplasma, RSV, HBsAg, Anti HIV 1&2, Anti-HCV, HIV-1 Ag, and/or found non-reactive for HIV-1 RNA and HCV RNA with FDA approved kits.  Additional testing (e.g. HTLV I/II) available on request. 
NBSH-501 United States Origin
 
 
 
 
 
 
 
 
NBSH-502 United States Origin
 
 
 
 
 
 
 
 
United States Origin
[INQUIRE
Special Order]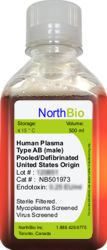 Human Serum produced from pooled plasma collected from normal, healthy male donors at FDA registered collection facilities in the United States.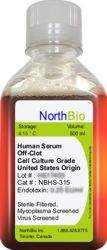 Human Serum produced from clotted blood, obtained from a single, normal, healthy donor at a FDA registered blood collection facility in the United States.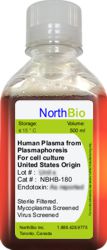 Human Plasma produced from a single donor unit or pooled units from mulitple donors.  Inquire.
Other Human Serum and Plasma products are available, such as gender, age or disease specific samples.  
Testing for presence of other viral markers such as HTLV I/II is also available. Please inquire.